ABOUT SUNTORY PEPSICO BEVERAGE (THAILAND)
In November 2017, Suntory Beverage & Food Limited (SBF), a global soft drink company, and PepsiCo Inc., one of the world's largest food and beverage companies, entered into an agreement to form a beverage joint venture in Thailand, Suntory PepsiCo Beverage (Thailand) Company Limited or SPBT, with the vision of "GROWING FOR GOOD".
The official announcement of its beverage joint venture took place on March 5, 2018 and has marked a new chapter for Pepsi-Cola brand in Thailand and will create more excitement forThailand's liquid refreshment beverage (LRB) industry.
The alliance intended to combine the strengths of both global powerhouses, with an ultimate goal of achieving the No.1 leadership position in Thailand's THB 137bn / USD 3.8 bn carbonated soft drinks (CSDs) category and creating new growth opportunities by expanding its beverage portfolio to meet consumer demands. This included drinks ranging from hydration to sports, energy drink, ready-to-drink teas and coffees, bottled water, and juices to a variety of innovations expected in the future.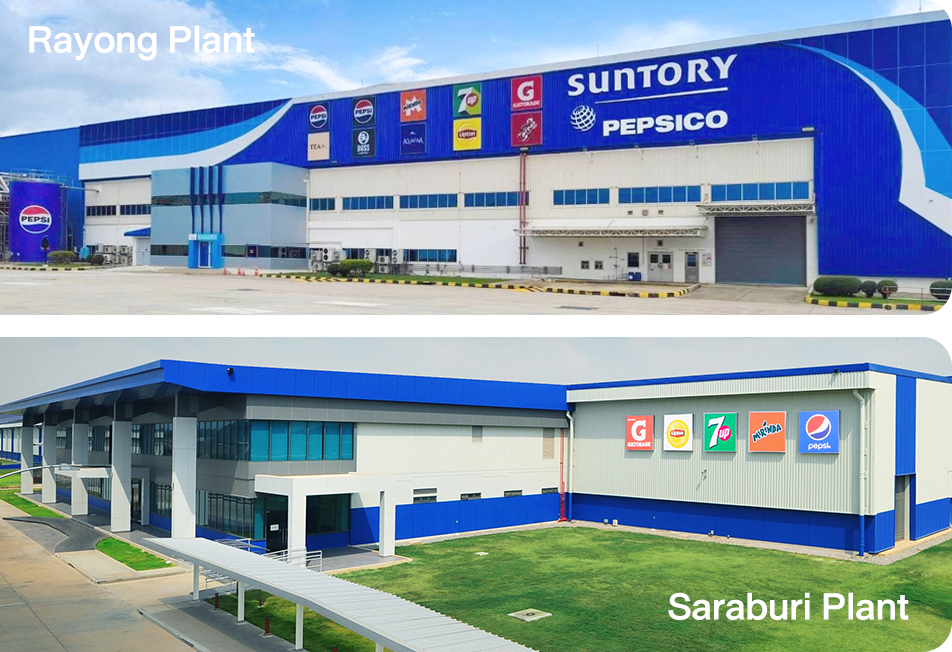 SPBT already serves as the manufacturer and distributor of popular brands such as Pepsi, Mirinda, 7UP, Lipton, Gatorade, Rockstar, Aquafina, TEA+ and BOSS Coffee. SPBT continuously intends to create new growth opportunities by expanding its beverage portfolio to meet consumer demands with a variety of innovations.
In terms of production, SPBT operates two manufacturing facilities; one is located in Amata City Rayong Industrial Estate, Rayong Province, and the other is at Nong Khae Industrial Estate in Saraburi Province. The company will continue to distribute beverage products through a global logistics firm as its logistics and warehousing partner for Thailand. It also works with 35 local distribution partners to gain access to more than 275,000 retailers-wholesalers stores nationwide.
With a portfolio of iconic brands, an excellent manufacturing and distribution system and great support from Suntory and PepsiCo, we are confident that SPBT will be a strong player in the overall carbonated soft drink category and in the LRB industry for many years to come.